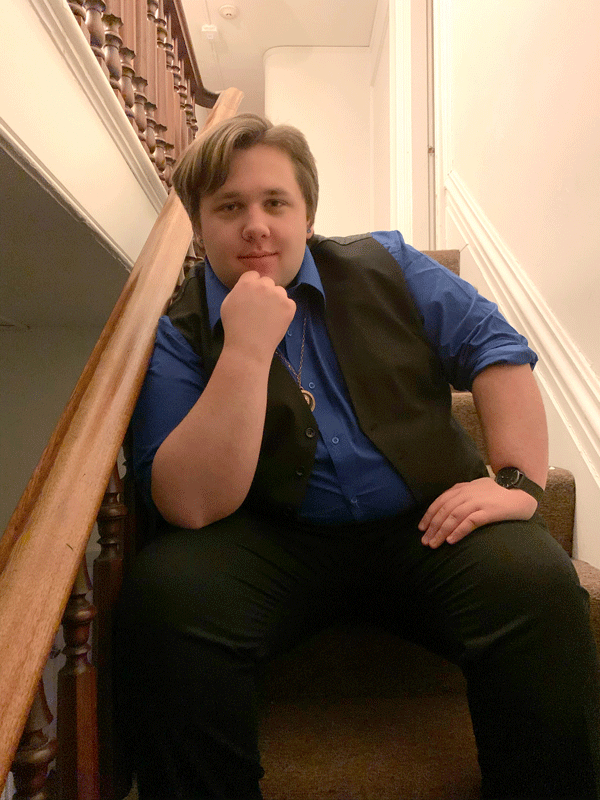 "I chose Bennington because I wanted to study theater," recalled Thomas Finegar '22, recent recipient of the Mark J. Bojanowski '83 Memorial Scholarship, which helps support students studying social science. "But also because passion for your interests is important here."
Finegar, who grew up in Columbia, Maryland, studies theater and psychology at Bennington. He admits to being unsure about the College at first. Field Work Term was a strange concept to him, and the Plan essay seemed intimidating. "But halfway through the campus tour, I turned to my dad and told him that I knew I wanted to be here. I fell in love with the campus."
Finegar has been exposed to virtually every aspect of theater at Bennington—lighting, stage management, playwriting, costumes, acting. He has been involved in a number of productions and is one of three co-leaders of the improv club advised by faculty member Shawtane Bowen. As much as he enjoys acting and creating, Finegar also appreciates the interaction with the audience.
"I see myself spending the majority of my time working in theater and approaching it from a way of thinking that is focused on the audience, how they feel about theater, how they react to it, why they react to it the way they do."
Bridging theater and psychology figures largely into Finegar's work at Bennington. "The psychology aspect of my plan is mostly based on moral judgments, figuring out why people judge specific actions and specific people in different ways, what about their past lives and experiences changes how they make judgments."
The plan that at first intimidated Finegar has now become a guiding force in his work. "One of the things I find most appealing about the most recent version of my plan is that everything comes together not as a culmination of classes that I've taken, but as a discovery of the connections between everything that I am interested in in general."
Finegar notes that receiving the Bojanowski Scholarship demonstrated that his work at Bennington was being recognized.
"It was emotional," Finegar recalled when he heard the news. "The things I am doing are being impactful, people are seeing it. It was really meaningful. I didn't know how to say thank you enough, so I wrote a long letter to the people involved."