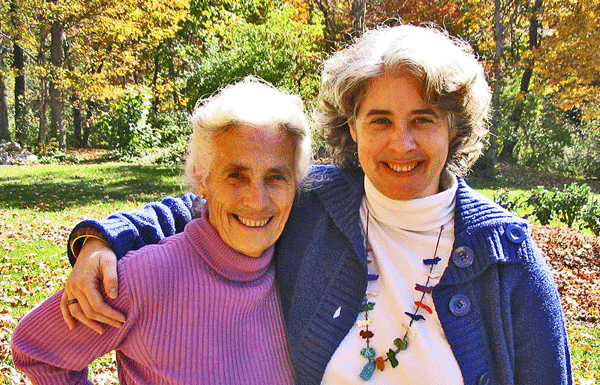 Mary Fanelli, mother of Elizabeth "Beth" Chaisson '86, recently established a Charitable Gift Annuity (CGA) with Bennington College. A CGA is a simple contract between you and Bennington in which you make a gift of cash, securities or possibly other assets. You are able to take a partial tax deduction for the donation and receive a guaranteed fixed stream of income from Bennington for the rest of your and possibly another person's lifetimes.
We spoke with Mary about her selection of a CGA, and what motivated her to make this gift to Bennington.
People have a variety of reasons for establishing a CGA. What motivated you?
After graduating from Mount Holyoke in 1995, I worked in the major gifts area of their development office and learned quite a bit about charitable gifts and their benefits to both the donor and the college. When I inherited money after retirement, an annuity seemed like a sound investment. It also provided a way for me to give back to Mount Holyoke for supporting me through my undergraduate work and to Bennington College for the impact it made on Beth's life.
Were you an older student at Mount Holyoke?
In 1957, I matriculated for one year at the University of Massachusetts, and then went to Katharine Gibbs in Boston to complete their one-year program. I married my high school sweetheart, had four children, and became a homemaker for many years. My youngest daughter was at Mount Holyoke and told me about a program they have for women who would like to finish their education—Frances Perkins Scholars. I decided to go back to college at 52, and she and I graduated together in 1995. I fell in love with learning. It was an awesome experience and gave me a true appreciation of a liberal arts education.
What about your daughter Beth's experience at Bennington inspired you to give to the College?
I was impressed at the flexibility that Bennington allowed students in choosing a course of study. Beth chose Bennington in 1982 intending to become an architect. Bennington gave her an opportunity to express herself in a way she would not have been able to at a conventional type of college. Getting full evaluations, rather than grades for each course, was also very impressive. While interning in the summer with the New York City Department of City Planning, Beth discovered her love of land use planning. She returned to Bennington in 1988, made city planning the focus of her Field Work Term and graduated with a concentration in Philosophy and Architecture. I am proud to say that she was a stay-at-home mom for many years and raised two terrific children. In between, she also worked part time teaching English as a Second Language to adults and helped found a non-profit organization, GreenWheaton. Like many Bennington graduates, she is multifaceted.
In addition to establishing the CGA, you continue to give annual gifts to the Bennington Fund. What makes Bennington a philanthropic priority for you?
For one thing, the financial aid given to Beth when she was at Bennington was significant. As a recent divorcee, I was most grateful at the time for the college's support. More importantly, education is at the top of my list for charitable giving. There is nothing as valuable as a liberal arts education to cultivate and satisfy a curious mind. It prepares you for just about any field of work. And at Bennington, students must be independent and have a goal in mind in order to complete their undergraduate studies in this environment. I can see why graduates are so successful in their endeavours.
What impact do you hope your philanthropy at Bennington has?
My gifts to both Mount Holyoke and to Bennington were funded by inherited money that gave me the opportunity to fund a gift that I would normally not have been able to afford. Today, even though my income is moderate in retirement, I make sure that some of my charitable donations go to the colleges that gave me and my family a liberal arts education.
What would you say to invite someone else to establish a CGA at Bennington or include Bennington in their estate plans?
I certainly would advise any parent or student to choose a charitable gift annuity as a way of giving back to Bennington and supporting the education of other students. Bennington is unique in its approach to learning, and those students, who are motivated and can learn independently, receive an education that they could not find elsewhere.