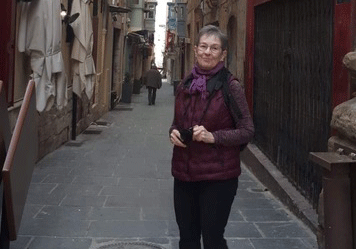 Joan Katz von Ohlen '70 remembers that her time at Bennington College almost came to an abrupt end before reaching graduation.
"In the middle of my junior year, I became financially independent but without any resources," says Joan. "My parents refused to support me any longer. This left me with no way to pay for tuition for my senior year. The financial aid office gave me a full scholarship to cover that."
Joan returned the favor by reaffirming her estate plan commitment and making a generous gift to Bennington to support scholarships for students in need.
"What really drew me to Bennington was the fact that the college put the responsibility on the student to develop and defend their proposed course of study," says Joan, who studied political science and Russian.
After graduating from Bennington, Joan taught in public and private schools for seven years, but wanted to make a change. She transitioned into banking on the strength of her writing and research skills. Over time, the job developed into a 25-year career that included technical support and management, project management, and systems consulting. "All this with zero technical background," recalls Joan. "I didn't have even a debit card at the time." 
During this time, Joan rekindled an interest in French language and culture that dated back to her high school days. She began taking short stays in France, including a month-long sojourn in Paris in 2003.
Joan took an early retirement and moved to France, and a planned one-year stay extended to 13 years. It was then that she found a new calling.
"Personalized Paris grew out of something I was already doing for friends and friends of friends," says Joan. "My business was a way to continue helping people to plan personalized trips to Paris but for a wider audience, trips focused on their interests and backgrounds."
Joan's life after Bennington took a path that afforded her the opportunity to explore new careers, new experiences, and engage in lifelong passions.
"I believe in a liberal arts education," says Joan. "I think that Bennington epitomizes education that teaches one how to learn as well as allowing students to follow and combine their passions, even if it appears unconventional."