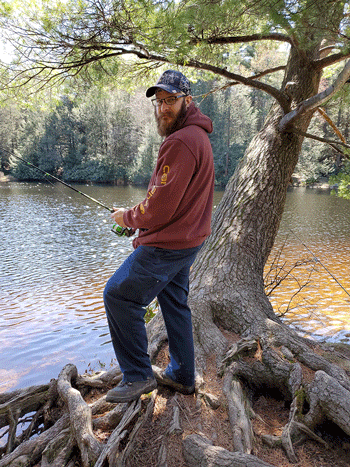 "I loved Bennington from the start," recalls Edward Zarsky '02, who recently joined the Silo Legacy Society and made Bennington College a beneficiary of his IRA. "There is an energy at Bennington that can't be described. Everyone has such big dreams and the drive to attain them."
The three years that Ed spent at Bennington College made an impact on him that stirs deep emotions to this day. An honors student from a small school in the coal mining region of Pennsylvania, Ed was the first person in his family to attend a four-year college. He wanted to pursue politics and teaching, but that changed when his music teacher gave him a Frank Zappa album. Right then, Ed decided to make his career in music, specifically audio engineering.
Ed admits that he had never heard of Bennington prior to applying, but he was attracted to the College in part because of its proximity to his family.
"I feared being homesick as I had never really traveled," says Ed. "So, we packed up my dad's car and headed north. When we crossed the New York border, it was the farthest my father had ever been from home. He was very proud."
Ed embraced his studies at Bennington, and recalls professors who stood out as having impacted his understanding of the world. "Dr. Carol Symes made me fall in love with history so hard that I added that as a second major. Glen Van Brummelen made me see math in a whole new way. And Ted Hoagland had so many life stories that I could listen to him for hours."
During Ed's third year Field Work Term, he was offered a job at one of the largest recording studios in New York City. He left Bennington to pursue his dream, but it was far from what he expected, and the business was losing ground to home recording. Ed quit the studio and returned to Pennsylvania to tend to his ailing father. He now works as a shift mechanic team leader in an industrial packaging plant, a job he enjoys.
Ed's relationship with Bennington did not end there. As a man with a passion for pure maple syrup, he's not above making a five-hour drive to grab some of Vermont's finest. And each trip includes a pass by the College.
"It's great to sit at the End of the World, to walk past my old houses, to walk up the dirt path to Jennings," says Ed. "How amazing and powerful such a small place can be. The best years of my life. I want other young men and women to have that experience. I choose to give to Bennington to keep that feeling alive."