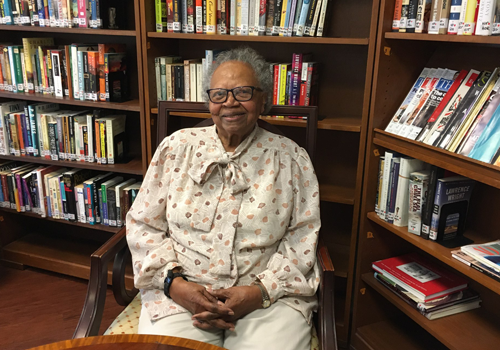 "Beryl was so happy with Bennington, she wouldn't even apply anywhere else," recalled Bertha Martin when her daughter approached her about attending Bennington College. "She just loved the arts and dance."
Beryl LaVert Martin '85 came to Bennington in 1983 after transferring from Dean Junior College in Franklin, Mass to study dance. Sadly, Beryl died on December 7, 1983 in an automobile accident with fellow Bennington student Mara Zalk '87.
Martin, a retired pediatric dentist now living in Washington D.C., spoke fondly of her daughter's passion for the arts. "Beryl was interested in dance and drama from a young age, but she wanted to focus on dance." Martin recalled with a chuckle her daughter's remarkably practical outlook at a young age. "She told me, 'I can only dance until I'm 20-something.'"
Martin took Beryl to visit Bennington when her daughter was still in high school, and Beryl immediately fell in love with the rural look and feel of the campus. It reminded them both of Burgundy Farm Country Day School in Alexandria, VA, which Beryl attended as a child. It was ultimately decided that Beryl would first attend Dean. When it came time to transfer, Beryl applied only to Bennington.
"I was very upset with her because she would not apply to anyplace else," said Martin. "I was worried that she might not get in. She said, 'Ma, don't worry about it.' And of course, she was right."
After Beryl's passing, Martin established the Beryl Martin '85 Memorial Scholarship as a way to honor her memory.
"I thought I would give some other student an opportunity," said Martin. "It could be a little help in memory of Beryl since she wasn't able to go through with it."
Martin's remarkable generosity has impacted many students at Bennington. A recent recipient of the scholarship is Isabel San Millan '22. Like many students, Millan was drawn to Bennington because of the opportunity to craft her own educational experience and explore different areas of interest. She is following her passion for animal biology and also fulfilling her artistic goals studying dance.
When asked about what she would say to Bertha Martin if she could meet her, Millan replied, "I would thank her for helping me discover what I love. This scholarship allowed me to stay at Bennington."